You all know by now about my unfaltering love for Sally Hansen as a nailcare brand. The
Complete Salon Manicure line
ranks high among my ultimate favourite nail polish while I swear by both Insta Dri and
Complete Care 4-in-1
as topcoats. So, I was bloody ecstatic when the brand's newest topcoat, No Chip Acrylic Top Coat* (€5.75), dropped in my door. Combining my love for a two-week manicure with flexibility to change nail colour as much as my heart desires, I had high hopes for this little bottle.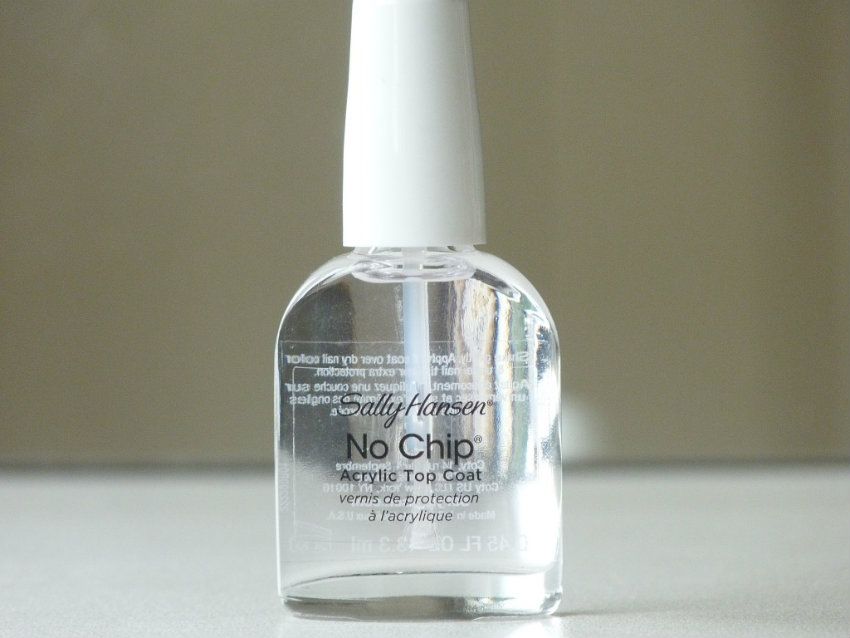 So, bearing all that in mind, it physically pains me to say that I'm not entirely "at one" with this product. I have tried it over Avon Nailwear Pro+ colours and Complete Salon Manicure polishes which usually stay chip-free for around five days as well as over the infamous Chanel nail colours which chip within a day or less and I just can't get it to work for me.
Over both nail polishes, I noticed linear cracking across my nails within a few hours of application and, while I tried my best to be careful and get the most out of my DIY mani, these cracks rapidly turned to chipping with huge chunks of polish flaking off at any one time. You can see cracks these in the quick phone pic below. Over the Complete Salon Manicure polishes, I noticed another weakness post-application. Tiny air pockets would form between the topcoat and the nail colour and gradually expanded until the entire air bubble just chipped off leaving me with oddly placed holes in my polish.
The No Chip Acrylic Top Coat does give nails an amazing shine and they do feel really strong and hard post-application. With such an amazing finish, exactly what I love about professionally done two-week manis, it really frustrates me that I can't make the product work for me. I hate having to report back negatively about a brand I love and a product I really want to love but, my loyalty is to you guys and I can't honestly give this a 100% seal of approval.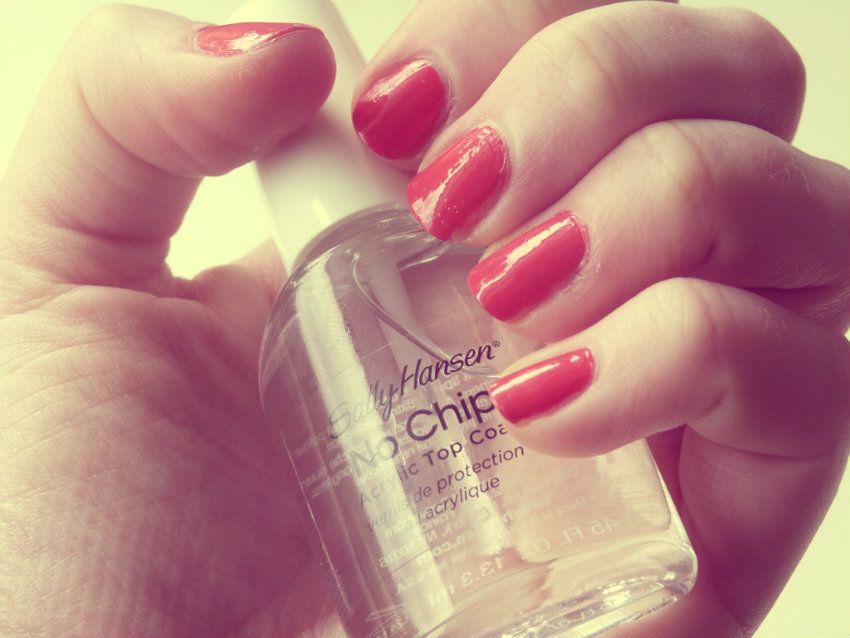 I would be interested to hear if any of you have tried this and what your experiences were or if you have any suggestions for combating the issues I outlined above. Considering how consistent and good Sally Hansen products are, I'm nearly assuming at this point that it is something I've done wrong it applying the top coat as I can't imagine how this would have gotten through testing procedures with cracking and air bubbles forming after a few hours. As it stands, I would wholeheartedly recommend Sally Hansen Insta-Dri or Complete Care 4-in-1 over the No Chip Acrylic Top Coat but, I really hope I can make the latter work for me because, on paper, it seems like such a "me" product!