I've said it once and I'll say it again, there has been few bigger benefits to creating a beauty blog than the opportunity to be exposed to brands that I wouldn't ordinarily have tried. Avon is one such brand and I would like to take this opportunity to hold my hands up and admit that, initially, I judged too harshly.
For, you see, I always considered Avon a sub-par cosmetics brand that was aimed at the older generation. I had no prior experience with the products and, with a certain amount of make-up snobbery, felt a brand that was touted door-to-door just couldn't be up to scratch.
The reason I am professing all here is because I know a lot of you felt the same kind of indifference towards Avon. Whenever we have posted on a new launch or reviewed a particular product, we always get at least one comment along the lines of "
I've never tried Avon
" or "
I would never think to go to Avon to get a decent mascara
" and I just wanted to make it known that I, too, would never have have bought a mascara through a cosmetics representative but, now those same mascaras rank high among my favourites, as you will see below, along with some other products that I really believe bring out the best in the brand.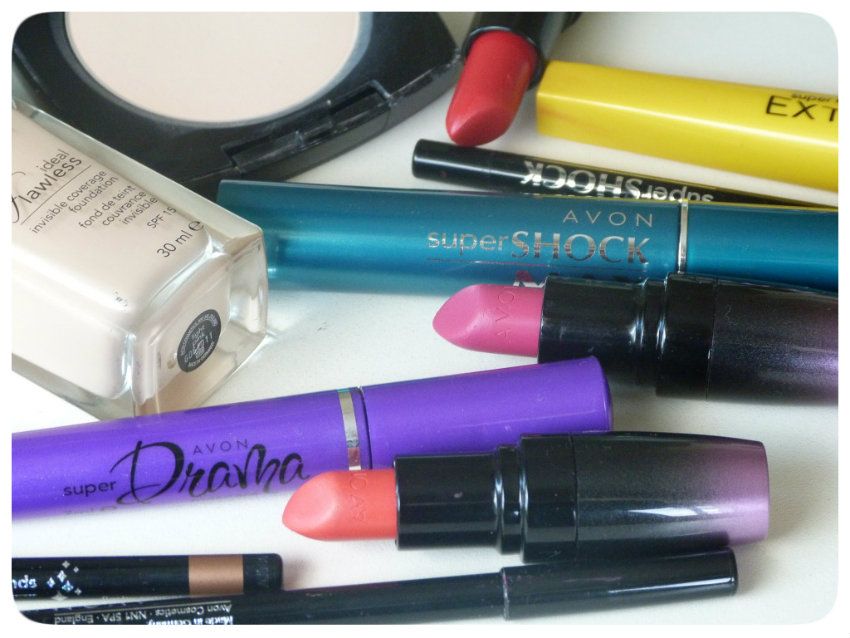 Mascaras
Avon ranks as my top brand ever for mascara. In fact, of my top five mascaras of all time, three are Avon (
The other two are Benefit They're Real! and Max Factor False Lash Effect
) and nothing excites me more from the brand than when I get word that they are adding another mascara to their line-up! Having tried almost all at this point, my stand-out favourites are SuperSHOCK MAX (€13.00), Super Drama (€11.00) and SuperExtend Extreme (€13.00). Each of these mascaras does something totally different for lashes but, are all equally amazing. SuperSHOCK MAX is a high-impact, thickening and volumising ditty that stays and stays until you attack it with some remover. Super Drama creates a very natural and fluttery lash that frames eyes and is my personal choice for daytime. SuperExtend Extreme physically adds length and volume to lashes with the help of the tiny fibres contained within. Depending on your needs and wants from a mascara, I highly recommend all three of these as a cheap, cheerful and quality option that won't let you down.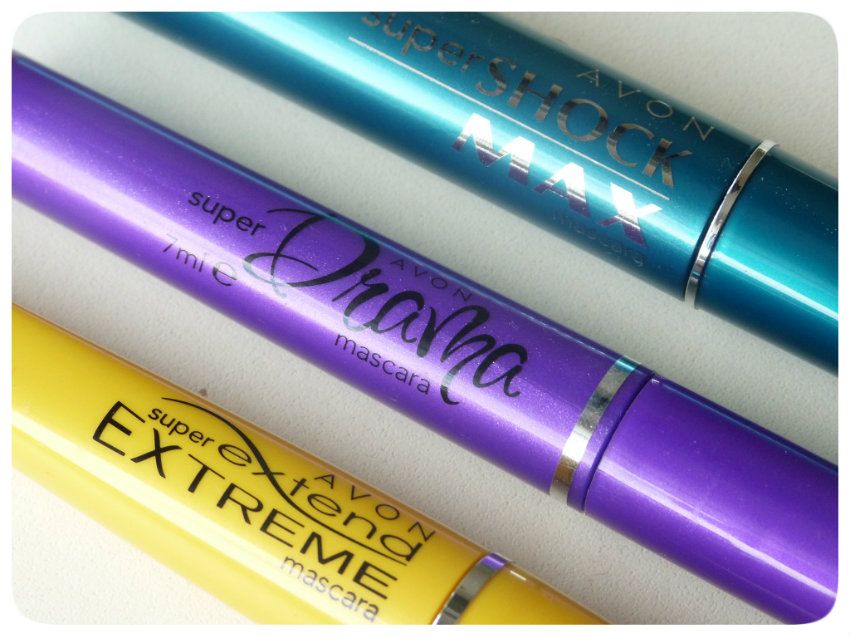 Eyeliners
If Avon has one universally known and revered product it has to be their SuperSHOCK Gel Eyeliner (€7.50) pencil. This formula is, hands down, the best you find from any eyeliner anywhere! Available in multiple shades, it is super creamy, super pigmented and, until it sets, super malleable so you can use it as a base for shadows. However, once it does set, this sucker ain't budging until you coax it gently with an oil-based remover! Also from the brand, the Glimmerstick (€8.00) pencils are retractable pencil eyeliner (no sharpening required!!) which boast a similar though slightly firmer formula to the SuperSHOCK pencils. The ultra-fine point makes these ideal for lining along the lashes and, again, once they set, they stay in place all day.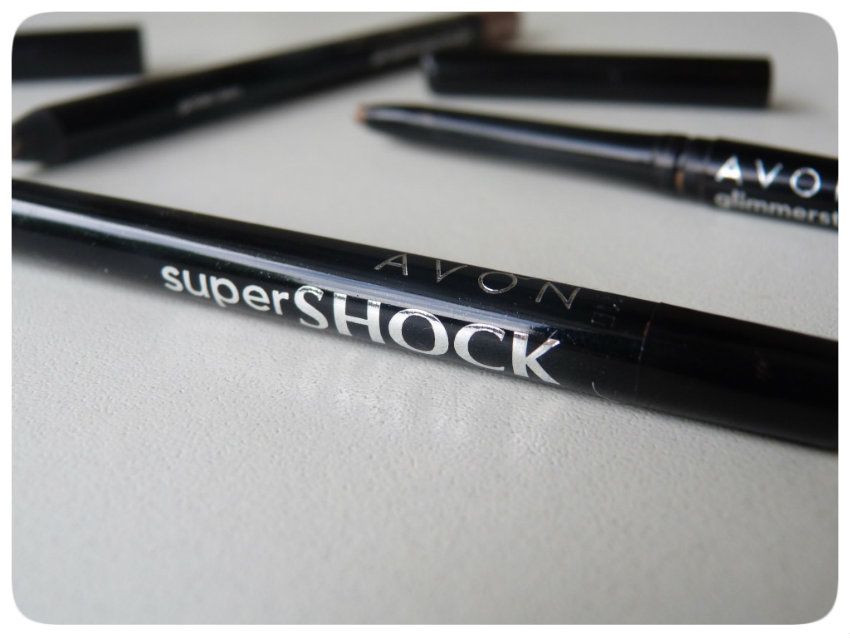 Ideal Flawless Foundation and Powder
Ideal Flawless (€15.50) is one of newest foundation releases from the brand and, while it is the only Avon base I have tried thus far, I am consistently blown away by the quality, finish and longevity of it whenever I wear it. The shade selection is really great, ranging from the palest of the pale right up to deep ebony tones which is virtually unheard of for foundations at this price point. The accompanying Ideal Flawless powder (€11.50) is, admittedly, nothing to write home about but, it is a gorgeous light finishing powder and works really beautifully over the foundation to create a, you guessed it, flawless finish!
Lipstick
Both Dee and I have major respect for a really good lipstick. While we have tried (and enjoyed!) numerous varieties from Avon, it is the Colourdisiac (€9.00) line of lippies that has us both in a flap. These lipsticks are incredibly pigmented with a mixture of matte, demi-matte and satin finishes, they stick around for a good few hours before wearing off evenly. Below are three of my top shades; Can't Resist Coral, Flirty Fuschia and Red Hot Lips, and these are comparable if not total dupes for some of my favourite MAC lippies at half the price!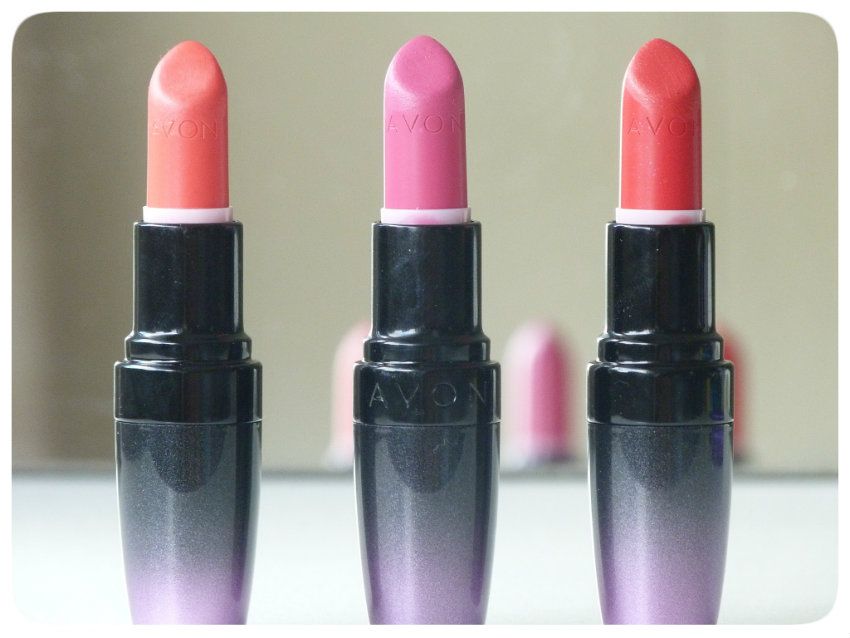 In recent years, Avon has undergone a total overhaul and has been revamped as a genuinely covetable brand with some incredible products. Aligning themselves with notable YouTube duo Pixiwoo has only served to increase the brand's reach and snagging current, relevant and visible faces like Alesha Dixon to front campaigns has ensured that the Avon name appeals to a much different generation than it may have done in years past. The moral of my Avon story is not to judge a brand too harshly just because of its reputation. You never know what treasures are hidden within!
What products do you consider the "best of Avon"?