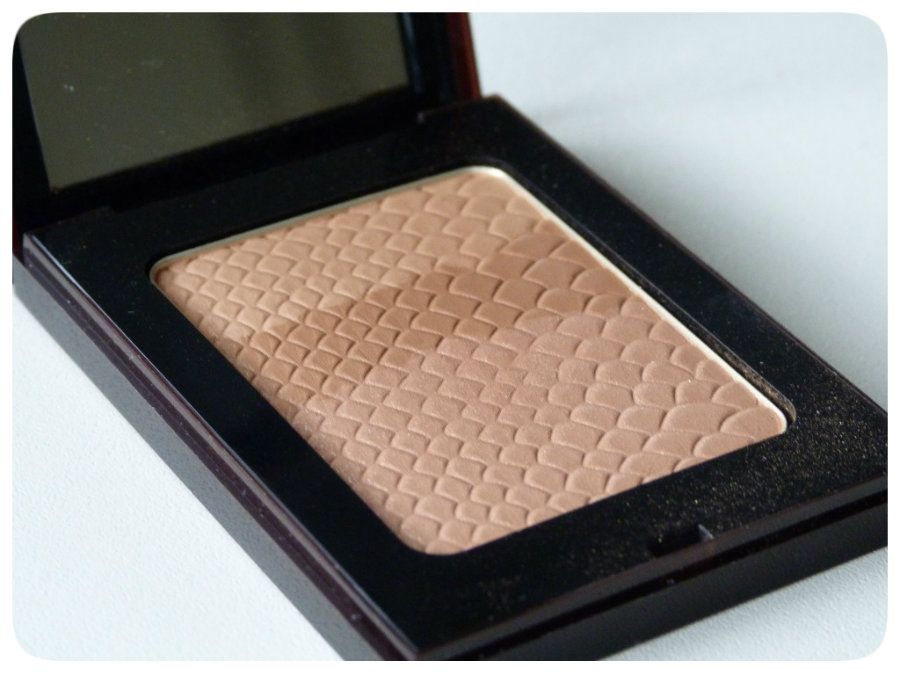 I recently
posted at length
on my favourite bronzers for summertime. However, this YSL beauty was too new to the collection to legitimately include and I wanted to give it a thorough testing before reporting back to you on it. To give it its full name,
the YSL Terre Saharienne Collector

Poudre de Soleil Bronzing Powder (€55) is the star product of the French powerhouse's summer 2012 collection, Swimming Pool.
Available in three shades, this being Tanned (#1), the Collector has been revamped from the permanent Terre Saharienne offerings to include three different bronze shades that are embossed with a python print which plays homage to the luxury brands couture accessories line.
The composition of the powder itself is really something special. It has been finely milled before being compressed and is as smooth as butter when swatched (
I tried to take swatch pictures but, the shades are just so subtly different that they all looked the same!
). It contains an amino acid derivative which is hydrophobic and, so, offers resistance against humidity for a long lasting glow. Surprisingly, this also boasts SPF 12 which is never something to turn your nose up at.
To achieve a light, natural glow, I tend to use a stippling brush like the MAC 187. I swirl all three shades together, tap off the excess and apply to the perimeter of my face. I really like the result and can appreciate the longevity of the powder as I wear it all through work, the gym or any other post-work activities and it still looks lovely and healthy come evening time.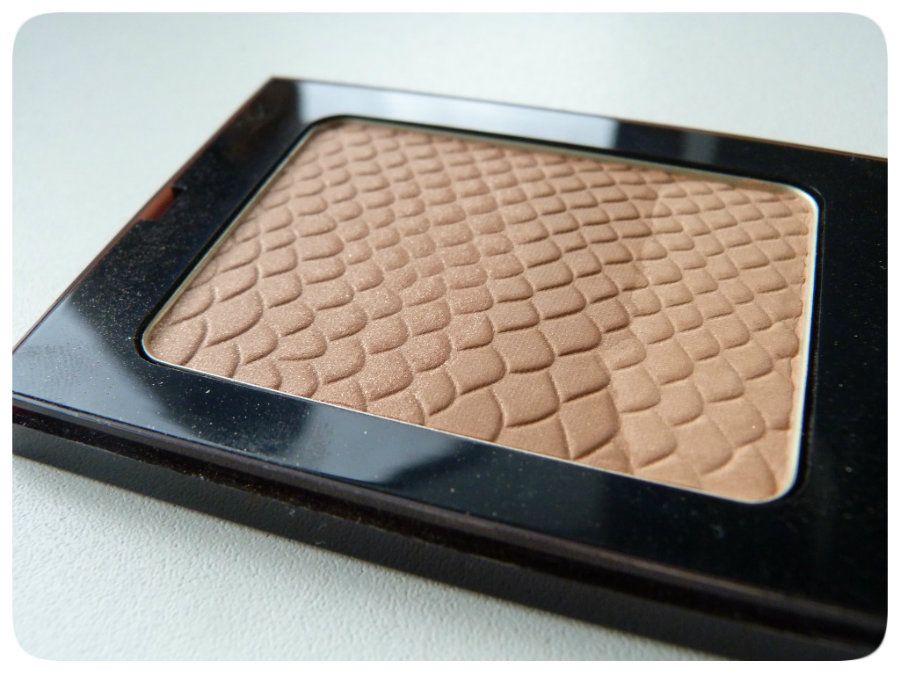 Where this product lets me down is, if you'll pardon the pun, purely cosmetic and so, not necessarily a make-or-break factor on whether you should buy it or not. However, I must point out that the packaging, while looking all luxuriously "Arabian Nights" inspired with it's burnished brown and gold colourway, is shockingly flimsy for such a high-end brand and such a high-level price. It is made of the lightest, thinest plastic. The hinged lid doesn't fold back fully as I prefer my compacts to do and the hinges themselves are quite loose and don't feel like they would withstand too much banging around in a make-up bag. Like I said, it's no real representation of the beautiful product contained within but, I do wish YSL had pulled out all the stops like they have in the past, and produced a lovely heavy, satisfying compact that better reflects the quality of the product and justifies the price tag.
Leaving aside the desire for a more substantial house for this bronzer, I do think that the YSL Terre Saharienne Collector is one of most covetable summer releases across all of the higher end brands. We're all suckers for fancy powders and, that you get a 3-in-1 shade deal with this particular offering just increases its allure. The scale-effect embossed on the powder, while not necessary, is really beautiful to look at and makes me happy every morning when I go to put it on. However, the real kicker is that this is a genuinely amazing product; formula-wise and colour-wise and no amount of fancy packaging or pretty embossing could ever top that in my books.
YSL Swimming Pool is on counter now as of 21st June 2012.