This post is part of my Summer Lovin' series. I'll be posting every Monday in the run-up to my own holidays in August and will be covering some of my own summer favourites!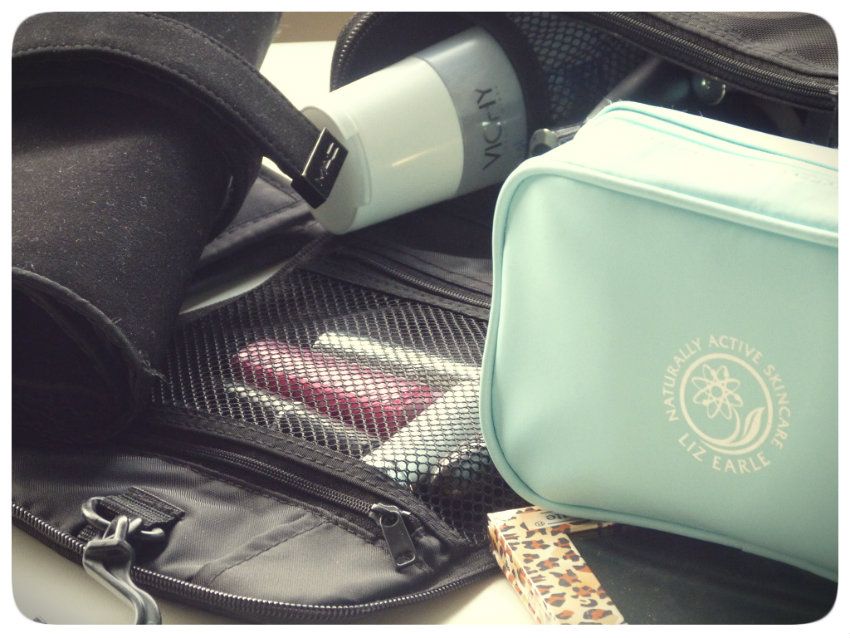 I presume I'm not the only person who is a chronic over-packer? No matter if I am going on an overnight trip to a friends or away for two weeks in the sun, I always pack way too much. While I set out with the best of intentions, only to bring one pair of shorts and mix and match tops or to rotate dresses for evening time, a little voice always pipes up in the back of my mind and chirps annoyances like; "
But, what if you need it? What if your trip is ruined by the crippling regret that you chose to leave it at home?"
and so it goes, into the suitcase!
Because we are going on a cruise this year, however, packing is quite a bit different. There are dress codes you see. Evening wear ranges from semi-formal on most nights to cocktail wear once-a-week, while daytime, either lounging by the pool or hopping off the ship at the various islands, is all about shorts, tees and light summer dresses. I've practically been
ordered
to pack heavy for this trip so, I can fully embrace the worried little voice in my head for once!
However, the downside to this is that (a) I plan on doing some (Read: A Lot!) of shopping in New York prior to the actual cruise so, I will need space for this and (b) room for cosmetics is vastly reduced and, since we're all beauty lovers here, I know you all understand how tough this can be to deal with! However, I've taken matters into my own hands and come up with a few space saving tips, tricks and purchases that will ensure that we all travel light this summer; beauty-wise at least!
Skincare
Most of us have our preferred skincare routines down to a fine art and hate to stray from them when we go away. You can, of course, buy some travel-friendly bottles and decant your favourite products into them or even bring the full-sized bottles with you, though this option is not exactly economical for saving on weight and space. However, personally, I like to use trips away to change-up my ordinary routine and to trial and test new skincare products and with a multitude of brands now offering compact kits of travel minis, there is no better way to expand your horizons and try something new.
In the past I have used mini kits from brands including Simple, Elemis, Burt's Bees and Yes To Carrots when on my travels and, this time round, I will be toting a cute little Overnight Travel Kit* from Liz Earle which was kindly sent to me with my impending holiday in mind.
Liz Earle, as I'm sure you all well know, is considered something of a skincare goddess among the beauty community but, I have never really tried the brand outside of her new Colour make-up collection which I reviewed here.
The Cleanse and Polish is one of the brand's revered products so, I was particularly excited to see a teeny tube of this in the travel kit. There are six other skin and bodycare samples as well as two muslin cloths which are just enough to travel with and to give a decent two-week trial to. I was never aware that Liz Earle did mini kits like this so, if you are travelling or just want to try a range of products, they are definitely worth checking out. We also received a few other little kits which Dee may update you on soon!
I'm absolutely nutty about Muji as you may have gleaned from this post here and these weeny cosmetic pots were just calling my name and asking to be bought! While I am pretty sorted in all areas of skincare with the cute Liz Earle kit, I wanted to decant some of my can't-live-without Origins Drink Up mask into one of these pots for the longhaul flight to New York as well as the heavily air conditioned cruise ship. My skin is normal but, verging on dry and even short flights suck the life right out of it so, after watching this video by Lisa Eldridge, I'm flying prepared this time!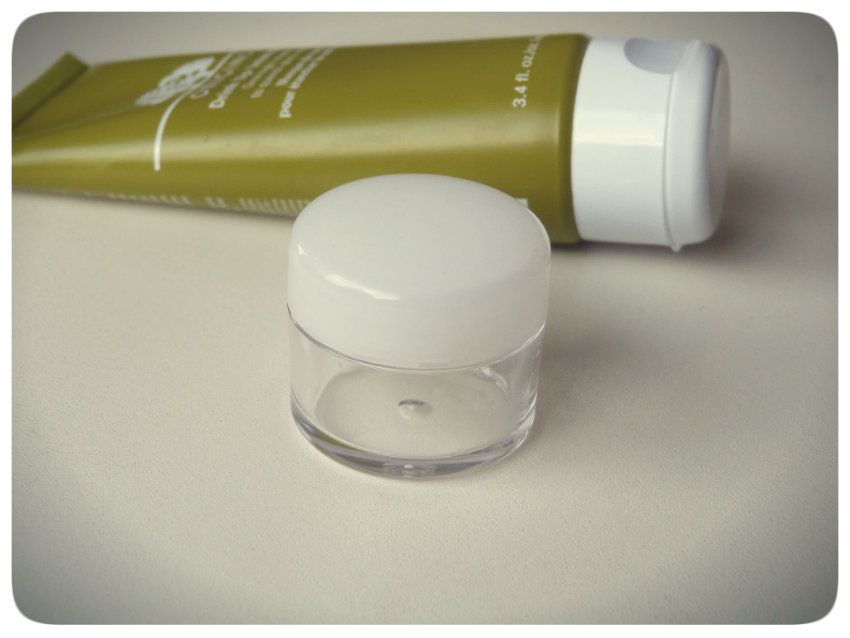 Make-Up
I always overpack make-up. I think, "Ooh yeah I'll definitely do a purple smokey eye" or, "What better time to wear a neon orange lipstick" and expect to do all these amazingly creative make-up looks with all my free "down" time. However, the reality of the situation is that, on holiday, I just can't be bothered. A swipe of concealer, a swoosh of bronzer, a little lip stain and lashings of mascara and I'm good to go!
While this year I will be expected to be a little more presentable, I still don't want to bring too much in the way of make-up and take up valuable space and weight which, admittedly, will probably be filled with even more make-up when I get there! To curtail my travel stash, I picked up this super compact make-up bag from, where else, Muji!

It was €20 which did give me pause but, considering I spend every other weekend in my dad's house, I ultimately knew it would get used to death. The great thing about it is how segmented it is. There are elasticated slots for keeping bottles standing upright, mesh zip pockets to hold all smaller, loose items, as well as room for blush and bronzer compacts and small eyeshadow palettes. This is packed after a week in my dad's so, it's not necessarily what I would bring on holiday with me but, as you can see, everything fits nicely and it closes to fit snugly into the corner of a suitcase.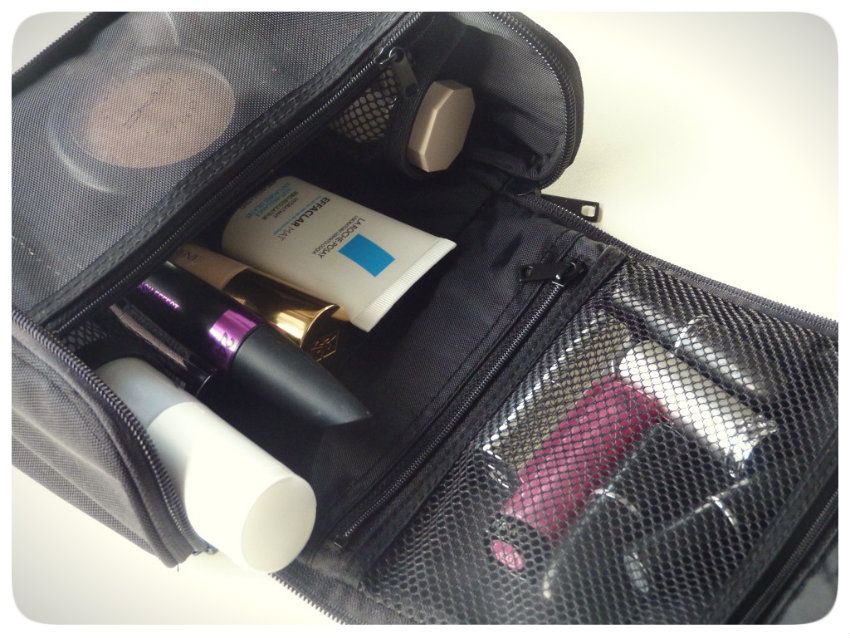 I have already spoken about this next space saver in a part post but, in case you missed that, I have a medium-sized Z Palette to transport any blushes and eyeshadows I need. I won't be going outside this palette and bringing any single items so, will have to carefully select what goes in in order to have a few different eye looks. This palette is so light and slim and sturdy that, even when packed away, it won't take up much space.
If you, like me, value your make-up brush collection more than your life, you will want to invest in some kind of brush storage that is travel-friendly; compact, sturdy and will protect your brushes. I have a MAC Brush Roll which I highly recommend as it fits a tonne of brushes yet, rolls to a small cylinder but, I have recently been using the Real Techniques brush holder that comes with the Core Collection, Travel Essentials Kit and Starter Set (All available from Cloud10Beauty) which can fit, at a squeeze, 10-12 eye and face brushes so, you could kill two birds with one stone and get some new brushes and a handy travel case!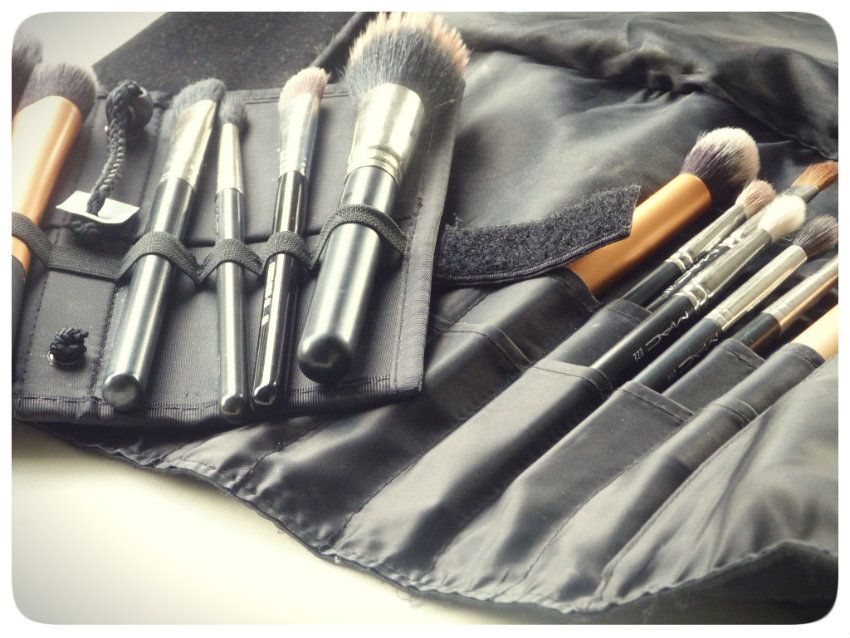 Other than these, here are some of my other tips for travelling light and packing economically;
Unless you're particularly fussy, don't pack heavy items like shampoo and conditioner. Rather, buy these when you arrive at your destination and ditch them at the end of the holiday!

Similarly, unless you have sensitive skin and require a special product, the bulk of your suncream can be bought abroad to save on space and weight travelling over.

Check if your accommodation offers beach towels before you travel. If not, these are very bulky to pack so, pick up a cheapy one off a street vendor and leave it behind you.

If packing breakables in your checked suitcase, use some common sense. Fold clothes around your make-up palettes to act as cushioning, protect perfume bottles by storing in a shoe stuffed with socks or underwear.
Any other packing trips, please share them below!
Note: While some products were sent for consideration, I just included the links to be helpful in case anyone wanted to buy them!