This post is part of my Summer Lovin' series. I'll be posting every Monday in the run-up to my own holidays in August and will be covering some of my own summer favourites!
It's been a few years since I've been on a beach holiday (
or to a beach in general!
) and, being the total lounge lizard/water baby that I am, I can't wait to flop down on the warm white sands of the Caribbean and dip my toes in the crystal clear ocean.
Now, with my holiday fast approaching, I can feel myself getting more and more excited by the day! Try as I might to contain myself, this holiday has been so long in the planning/savings process that I can scarcely believe it's now a reality! So, true to form, I'm already planning what to bring in terms of outfits, cosmetics and accessories and thought a post on my beach bag beauty essentials would be appropriate!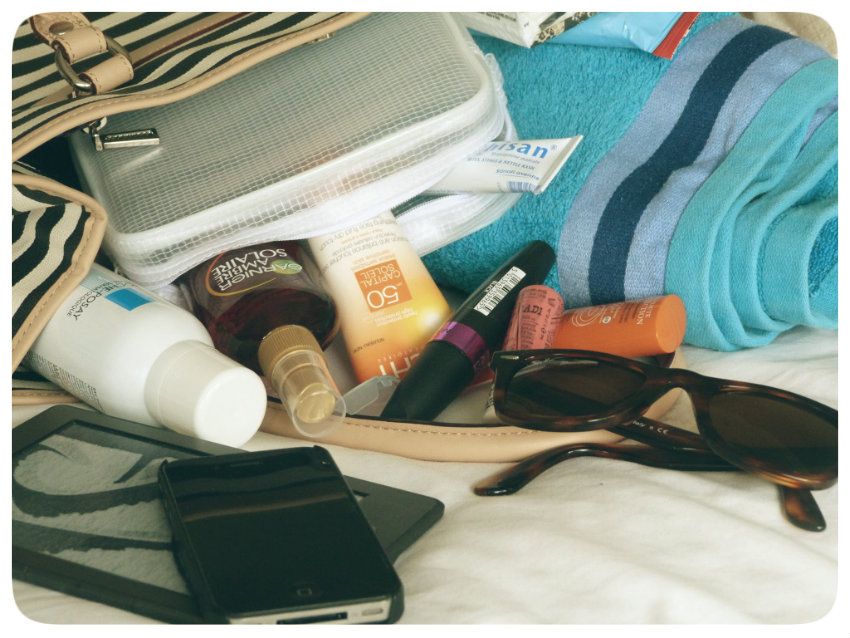 I should point out that I am pretty low-maintenance on holiday. I'm not one of those girls who wears a full face of make-up to the beach or takes a dip in the azure waters dripping in diamonds. No, I think I'll leave that kind of carry on to Kim Kardashian!
The long-awaited holiday involves 3 nights in New York City (
my first time ever!
) and a 10 night cruise around Bermuda and the Caribbean. I only wanted to bring one handbag that would suit air travel, seeing the sights of NYC and hopping off the ship at the various islands, whether it is to shop, explore or just lounge on the beach.
I had my eye on this Rebecca Minkoff tote for ages but, couldn't justify the price for a seasonal bag. However, when I saw it on sale on The Outnet, I took the plunge and got it for a bargain. It meets all of my criteria and suits all of the required uses; big enough to travel with, nice enough to carry around a city, right materials (
canvas and leather
) for a beach bag. It really is perfect!
So, what do I plan on carrying in my nautical tote to keep both myself and my boyfriend - because you just know I'll end up carrying everything! - covered for every beach eventuality?
I already wrote an
entire post dedicated to my favourite sun protection
for this year so, you can read that here. However, for the beach, I always opt for a particularly high factor sunscreen and there are a number of reasons for this. Firstly, you are almost entirely exposed to the elements when on the beach. There is little overhead cover and, thus, a prime opportunity to get burnt. Secondly, when you are in the water, sea or pool, it will reflect the sunshine and it in itself can give you a nasty burn.
Don't forget the little areas! I'm told that burns on feet, ears, eyelids and lips can be among the sorest and most severe so, be sure to apply SPF liberally! I even know someone who had the SOLES of their feet burnt so, don't leave anything to chance. I'll definitely be bringing the Eau Thermale Avéne SPF* stick for all those areas I want to specifically target while an SPF-heavy lip balm like the Korres Lip Butter will keep my kisser covered while also imparting a pretty hue of colour.
Keeping cool when out on the beach in the height of the afternoon sun can be no mean feat. While an ice cream and a pretty cocktail can do wonders, nothing beats the instant refreshment of a
cooling
water spray
. My favourites include La Roche-Posay Eau Thermale* and Vichy Eau Thermale. These are in compressed air cans and so, are extremely light and good for travelling as well as rejuvenating tired and hot skin.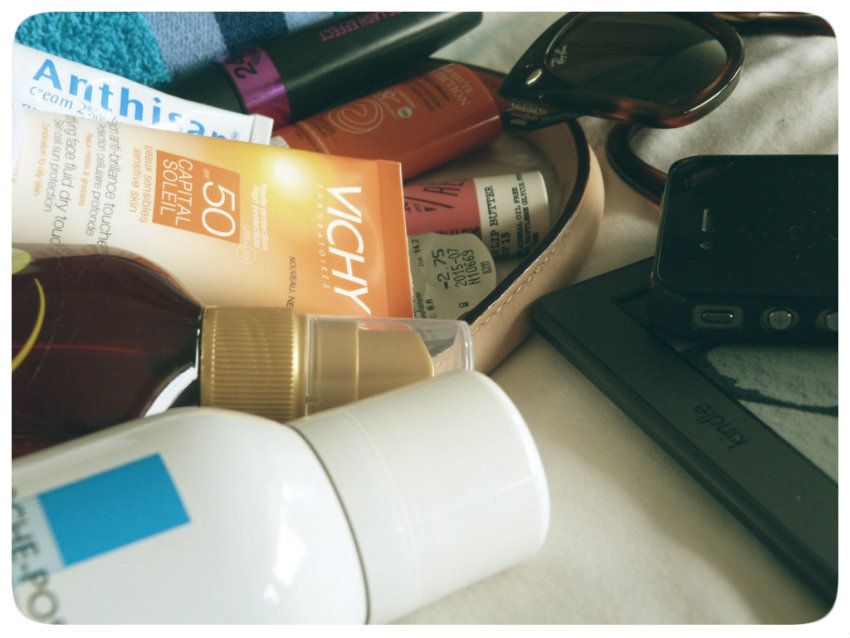 If you plan on hopping between the beach and the bar, you might want to
smarten up
before you face the general public. A quick spurt of deodorant, a clean-up with a wipe and a top-up of your waterproof mascara should be enough to turn any of us from a sandy, sticky beach bum to a cool and radiant beachside goddess!
Girl can dream...!
It may seem like a total "Mammy-ish" thing to point out but,
insect repellent and treatments
are life savers when around water. Not only do funny little tropical creatures like to burrow into the sand to keep cool but, then there are those that thrive in humidity as well as hover around bodies of water so, we're constantly at threat of getting a nasty nip from one of these critters. While I have never ever been stung by a wasp or bee or bitten by a mosquito (Touch wood!) Kev does attract them and I get the odd midgey bite so, having insect repellent as well as treatment creams like Anthisan* to soothe the itching are a must-have in my book as are After Bite pens which, unfortunately, smell like wee but, take the itching and stinging out of any bite!
Finally, the
miscellaneous,
non-beauty things I'll be chucking in my beach bag include entertainment in the form of my Kindle and iPhone (for music/quick snaps), a towel to keep things as sand-free as possible, a pair of sunglasses and some spare contact lenses just in case there is a mishap (that sand really does get everywhere)!
Like I said, this is my first beach holiday in quite a while so, if you think I'm missing anything obvious, please do let me know! Also, let me know if you're going away this summer, I love to hear all about everyone's travel plans!