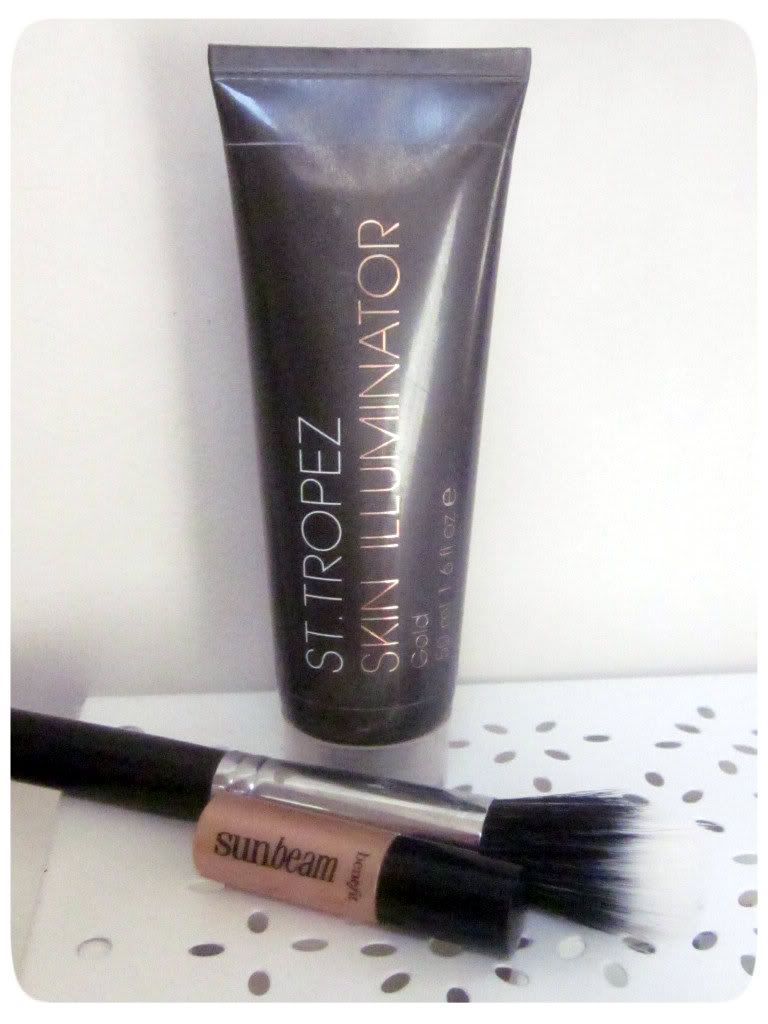 It took me a long time to discover the merits of a good highlighter. For far too long, I thought that I should skip on them as I have combination/oily skin, meaning that it is fairly shiny on its own! I couldn't have been more wrong, though. Highlighter can impart a subtle, super-flattering glow that foundation and blush alone just cannot do. For powder highlighters, my all-time favourite would be the now discontinued
Dior Amber Diamond
, but I also love MAC MSFs, TheBalm Mary-Loumanizer and the highlighter in the
Sleek Contour Kit.
Now, in terms of liquid highlighters, I'd only ever tried one before, yonks ago, from MeMeMe. I loved how it applied and also how you could mix it in with your foundation for an all-over glow. So, when I was given these two products over the last couple of months, I was really happy to give them a good testing.
I tried the St Tropez Skin Illuminator in Gold after receiving it in a goodie bag at an event where I met one of their skin finishing experts, Nichola Joss. She was great to chat to, as she's worked with some seriously famous people - Cheryl Cole, Rachel Weisz and Elle MacPherson, to name a few! She told us that the Skin Illuminators (
available in Rose, Violet and Gold
) were used backstage at London Fashion Week - for example, the Violet one was used on the models for Henry Holland's show.
This product can be used on both face and body, but for me personally, I wasn't mad on it on my body, as it was just a little
too
illuminating. I did dab it on my collarbones a couple of times, though, and really liked the result. I think that where this product really shines (
get it - heh
) is when it is used as a facial highlighter. I think the Gold shade (the one I have) would flatter a multitude of Irish skin tones, as it actually comes out quite pale and not at all yellow/orange.
The product also smells amazing - like holidays! I deposit a small amount of this onto the back of my hand and apply it using a small duo-fibre brush (mine is from Crown Brush and is a great dupe of the MAC 188), tapping it onto the top of my cheekbones and temples. Whatever is left on the brush then goes down my nose and onto my cupid's bow.
Swatched very heavily: Benefit Sun Beam, St Tropez Skin Illuminator in Gold
After using this regularly for about a month, a little sample of Benefit's Sunbeam highlighter arrived in the post. I was really interested to pit this against the St Tropez, as they are both gold liquid highlighters. Having said that, Sun Beam is a decidedly different kettle of fish - a deep bronzey-gold highlighter. It's very shimmery, but does settle into the skin well with no visible chunks of glitter. However, it does lean a little too bronze for my skintone, and I preferred the overall brightening effect of the St Tropez highlighter, which also has better lasting power.
So, in terms of the quality and shade of the product, I'm all for St Tropez. And in terms of pricing, I
definitely
am. The St Tropez highlighter is currently listed on the
Debenhams website
for €14.12. For less than fifteen quid, you're getting 50ml of an amazing product in a pretty, ergonomic tube. Unfortunately, Benefit Sunbeam isn't quite as good value. On the same website, it's selling at €26.50 for 12.5ml. That's a serious price difference, and proof that you don't always get what you pay for. I love a bit of Benefit as much as the next girl, but their products are seriously overpriced here, as are many other brands (we'll have more on that soon!).
So overall, I'd highly recommend the Skin Illuminator. A tube won't set you back much, and will last forever!
What's your favourite highlighter?