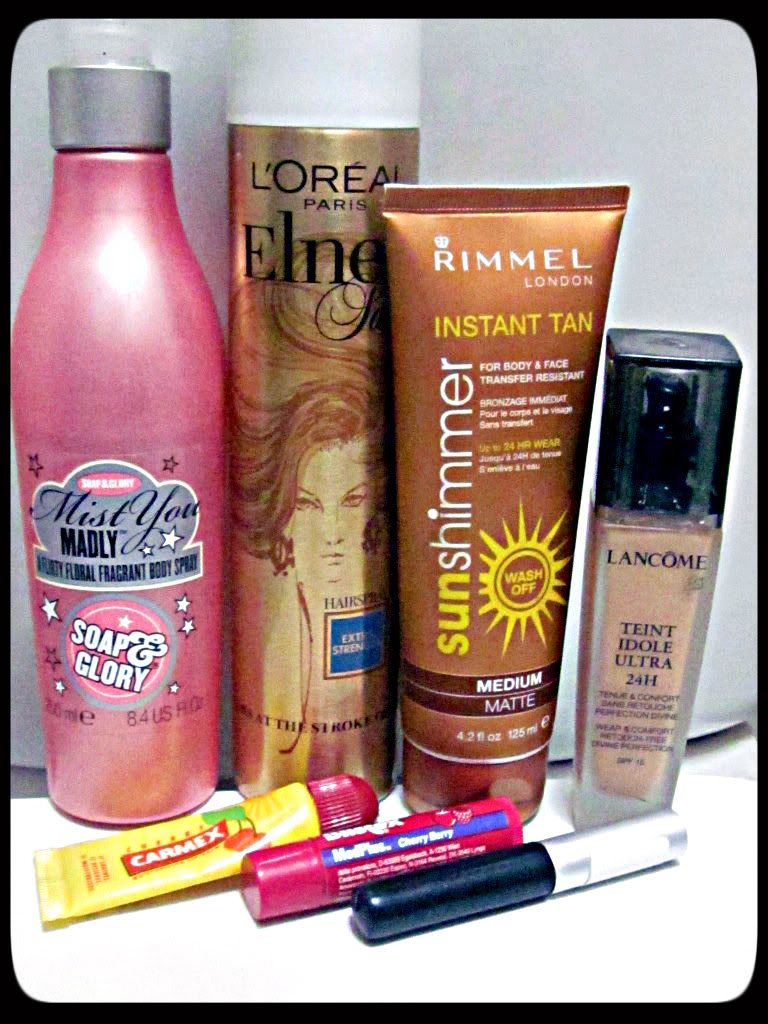 Being a complete and utter product junkie, I'm sure that many of you will be surprised to hear that there are actually quite a few products that I'm very loyal to. I suppose that, having tried a lot of things at this stage, I know what I like and, for the most part, I stick to it. These are all products that I have repurchased for at least the last year, and honestly couldn't be without.
The
Soap & Glory Mist You Madly
body spray was a bit of an accidental discovery, as I received it as part of a gift set the Christmas before last, and really thought that it wouldn't be for me. However, I actually really like the scent - it isn't sickly sweet and lasts better than a lot of body sprays would. This is always in my handbag, especially on nights out, as I'd be terrified of bringing a 'real' perfume out. Oh, and I've actually gotten a few compliments on this scent, which must be good, right?!
L'Oréal Elnett Hairspray
is another item that I just, well,
need.
It fixes and holds my hair like no other and stops it from going frizzy in the rain and mist - a total must if you live in Ireland! It leaves a natural finish with no 'crispiness', and brushes out easily. An absolute must in my books - I rarely leave the house without a spritz of this, and have never found a better hairspray at this price!
I'm not adverse to embracing the pale, but I do sometimes feel like warming up my complexion for a night out or fancy event. If I haven't had time to use a developing tan, I'll just grab an instant one and get to work with a tanning mitt.
Rimmel Sunshimmer
is something that I have used for years, and the formula has only improved over time. It's super-blendable, and you can use as much or as little as you like. If you're really afraid of looking too orange, just add a bit to your body lotion for a subtle glow!
PS - I saw Sunshimmer for half price in Hickey's Pharmacy on O'Connell St yesterday!
Foundation has to be my number one beauty weapon. I'd go without everything but this in a desert island situation! We've both gone on and on about how good
Lancome Teint Idole 24H
is, and if you're after a medium to full coverage foundation with a satin finish, this is it. It also lasts like a dream, smells nice and feels comfortable on the skin. Having used the old version of Teint Idole since I was about seventeen, I can really attest to how great this stuff is. In fact, I actually mentioned it in one of my
first ever blog posts!
Lip balm is another staple item for me, and, well, most people I'm sure. I like a balm of the tingly, menthol-y variety that you can really feel working on your gob.
Carmex
has long been a favourite of mine, and the cherry flavour is just delicious. I find the tube a lot easier to work with and more hygienic than the pot. I also adore
Blistex MedPlus,
it's only about €3 in Boots, tastes gorgeous and is
so
soothing, healing and moisturising. I actually have about three sticks of these knocking around at the moment, which is surely a good sign!
Finally, liquid eyeliner is another beauty product that I rely heavily on. Like red lipstick, a slick of liner boosts my confidence and makes me feel so much nicer. I am extremely picky about what liner I use; it has to be super-black, long-lasting, not crumbly and have a good, thin applicator. As I've mentioned before, the Essence one fits the bill. You can see that the one I have is ancient, as I haven't been able to find it since they
brought it back
to stands. If you've seen it, please do let me know, as I'm desperate to get my paws on a new one before this one dies!
What do you always repurchase?