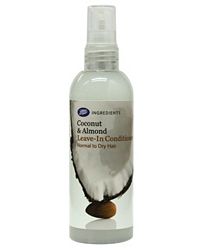 My hair hasn't been cut since January (the shame!) and, as a result, isn't in the best shape. It's super thick and unruly, and I find myself reaching for several different products to try and tame it.
I do try to leave it in its natural wavy state as much as possible, especially during the week. A product I've come to love for this is the Boots Ingredients Coconut & Almond Leave-In Conditioner. Although I nicked this off my mam (sorry mam), buying my own won't break the bank, as it's only about €2 for 150ml of product.
I wouldn't credit this with having miraculously changed my hair or anything, but it's a gorgeous product to use. It smells delicious and is worth buying for the scent alone, I've received compliments on the smell of my hair after using this!
This conditioner is a milky, spray-on liquid and could be used in a number of ways. If I'm just pottering around the house with my hair in a bun I spritz some of this on to moisturise the ends of my hair. I also sometimes spray a good amount in my hair before bed, and wash it out the following morning. It's nice to use when styling, too - it seems to accentuate the wave in my hair nicely.
Cue gratuitous photo of my hair et moi:
I definitely recommend this stuff, it's fabulous for the price!