We all love a good beauty bargain, and over the last year, Catrice has become a firm favourite among us Irish ladies for decent quality at an affordable price. We love their nail polishes and gel eyeliners in particular and were delighted when they sent us products from their newest range for autumn, Modern Muse.
The collection draws inspiration from the sixties in terms of big lashes and cat eyes, but also gives a modern twist to the look with the addition of smokey hues. Colours used are very autumnal - think golds, greys, taupes and racing green.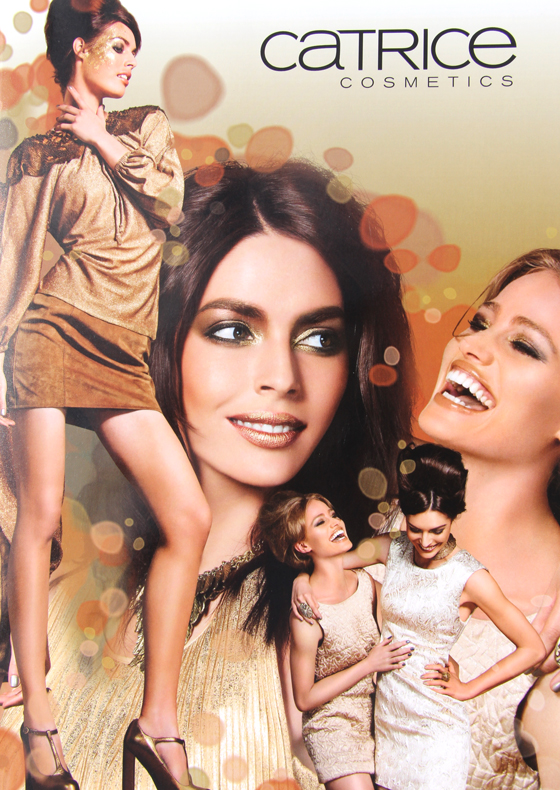 First up is Catrice's take on MAC's Haute&Naughty mascara. Their version is called Evolution to Revolution, and going on first impressions, is pretty good. I like the smaller brush (Look 1) for getting at my lower lashes and creating a more natural look while the fatter, denser brush (Look 2) creates really thick and volumised lashes that frame the eye. The packaging of Evolution to Revolution is lovely, shiny and sleek and wouldn't look out of place on a high-end counter.
Next we have a Precision Eye Pencil in Wildthing. This is one of those twist-up jobs that reminds me a lot of a MAC Greasepaint stick that I adored but was nicked on me (don't ever go to the Workman's Club in Dublin if you value any of your belongings!), albeit in much skinnier packaging. The colour is perfect for transitioning into winter - a muddy taupe with a bit of sparkle. I'd use this as a base for a smokey eye or wear it smudged under the waterline. The texture is really, really lovely - smooth and blendable - but I don't think it would be super-longlasting. Still worth a look, in my humble opinion!
Meet Mrs Roosevelt & Wild Thing swatched
Lip stains have been making us all go a bit weak at the knees over the past few months with Smashbox and Revlon being the front runners for lip markers. Now Catrice have jumped on the bandwagon with their competitor, Colour Infusion Long Lasting Lip Stain. The shade we were sent, Meet Mrs Rosevelt, is a gorgeous rosy hue that embodies the phrase 'my lips but better'. It's perfect for easygoing looks coming into the winter, and, although it doesn't come with a balm on the end, I still really rate it.
Longlasting seems to be Catrice's buzzword this Autumn, as joining the lipstain are their Made to Stay Longlasting Eyeshadows. I originally thought that these guys would be similar to those popular popular potted shadows by Rimmel (or the disappointment that was the MAC Big Bounce shadows). However, they remind me of something else, something a lot more special, and this fact excites me a great deal.
These are cream eyeshadows with a velvety, mousse-like texture. They are definitely not completely mousse-y, but, on the skin, they do remind me a great deal of the eyeshadow of the mom
ent, Illusion d'Ombre de Chanel, which I have swatched, ahem, four times since they came out this week.
I love the feel of them and they do seem really long-lasting. You won't get the same depth of colour or velvetiness here as you would with Chanel, but they are close enough to call a fairly decent dupe. I definitely recommend these and can't wait to get playing with them properly.
Catrice are bringing out a good few new shades this season, and the one I tried is called After Eight. Appropriately enough, it's the exact colour of a box of After Eights, and I adore it. Application is great with this - I don't think that Catrice polishes are fantastic in terms of longevity, but a decent top coat will remedy that. I'm loving this shade and will definitely be rocking it closer to Christmas (yes, I do plan my polish that far ahead!)
What takes your fancy from this collection?
Love,
D&S
x