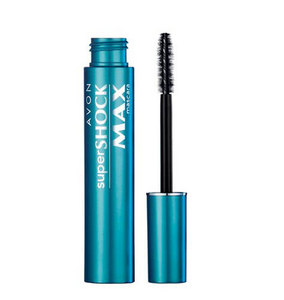 Dee has ranted and raved about how amazing the Avon SuperSHOCK mascara is ever since she received and
reviewed
it. She even went so far as to inform me one day that SuperSHOCK is *gasp* better than my coveted CoverGirl Lash Blast Volume (
AKA Max Factor False Lash Effect
)!
As a mascara junkie (
simply due to my crappy fair lashes and not enough money for regular eyelash tints!
), this seemingly ludicrous claim by Dee had me fearfully intrigued. While I couldn't imagine any mascara topping the effects of my beloved Lash Blast Volume I, quite frankly, didn't want to relent and try to find one.
So, when this little baby was couriered to my front door, I was more than a bit reluctant to relinquish that fat, orange, length-and-volume-filled tube from my paws and embrace a new brand of mascara. However, for the good of this website and your beauty-obsessed minds, I plucked up the courage and put the Lash Blast away.
I needn't have worried.
This mascara delivers, just as Dee promised it would. Its got volume. Its got length. It's got a bloody stupendous brush. Let me break it down even more for you.
Packaging:
We've mentioned before that we love a good package (
drag your minds out of the gutter! Tut tut!)
, whether that be a chunky Sally Hansen Complete Salon Manicure bottle or a sleek MAC lipstick bullet.
There is something so satisfying about displaying and using nicely packaged products and SuperSHOCK MAX is no exception. The tube itself is solid and heavy and feels cold to the touch which, to my odd mind, gives the impression of luxury and an expensive purchase. It's also coloured a gorgeous deep teal shade with silver accents which make for a really eye-catching product. Aesthetic-wise, this is a winner.
Applicator:
The SuperSHOCK MAX brush is one of my favourite types; big and fat with widely spaced bristles to ensure that all lashes, even those piddly ones on the inner corners, get a generous coating of mascara. The bristles are actually set in a spiral shape- think Twister ice-cream, winding staircase or, for the nerds among you, a double helical structure! I'm not sure what the purpose of this setting is to be honest but, as far as I can tell, it doesn't in any way hinder how well the brush works.
Longevity:
Avon claims that this mascara will last up to 14 hours. I will fully verify this claim as I wore it to a rain-soaked Oxegen yesterday (and will wear it there again tomorrow) for upwards of 15 hours and actively noticed when I came home that my eyes still looked open, alert and awake despite how tired I was feeling. There was no issue of The Curious Case of the Crispy Lashes, nor was there any problems with smudging, flaking or transference. Avon do not tell a lie.
Formula:
Let me preface this section by saying I HATE wet mascaras. I require a drier formula that is easily buildable and doesn't slip around on my lashes or leave little pinprick-sized polka dots on my eyelids when I blink. I have even been known to open a new mascara and leave it slightly unscrewed for 24 hours just so that it dries up a smidge.
My experience with SuperSHOCK MAX would suggest that Avon has found a happy medium between wet and dry mascaras. I can apply this, easily move it through the lashes (suggestive of a wetter formula) but, continue to build it with no fear of clumping or messy eyelids at the finish (suggestive of a drier formula).
Avon claims that this mascara will give up to 15 times the volume of natural lashes with no clumps. No clumps, sure but, 15 times volume is a bit hard to measure, no?! The formula is hypoallergenic which is great for contact lense-wearers and sensitive eye-suffers like me and apparently it contains "keratin treated spheres that expand and plump around the lashes to offer unprecedented volume." I don't understand the science-y stuff but, I will concede that this volumising formula does work wonders for me. I can't attest that it is 15 times more wonderous than my bare lashes but, there is a noticeable and improved difference with two coats of SuperSHOCK MAX. See the results for yourself (Apologies for no make-up and puffy Oxegen eyes!).
Natural Lashes, One Coat, Two Coats
Avon SuperSHOCK MAX will be launched in August and will be priced at €15 for 10ml and can be bought from an Avon representative. You can find your local rep
here
.