Hello! My name is Aoife, I'm an old school friend of Dee and Sinéad and a fellow makeup enthusiast. The lovely Viva Adonis girls have asked me to do a guest post on eyebrows, because over the years I've learned a thing or two about faking them!
Eyebrows are a peculiar feature. Those of you who have visible eyebrows might take for granted the difference that they make to a person's face. They frame your features and open up your eyes. Being naturally fair, I have virtually invisible eyebrows (for which I was regularly poked fun at by Dee during our school years). It wasn't until I started to 'fake' them that I realised I had been going without such an essential feature for so many years. These days, I feel naked without my 'eyebrows', and their application has become an essential part of my beauty regime.
For those of us not so lucky to possess naturally bold brows, faking them can be scary. The transition from no eyebrows to eyebrows is dramatic, and pencils create heavy 'drag queen' brows which put most of us off ever attempting to fake them again. But it IS possible to create natural looking brows - I'm going to let you all in on my routine to help you 'fake it' too.
An essential part of any eyebrow-less lady's makeup bag has to be Urban Decay's Brow Box. This lovely little piece of kit contains two shades of brow shadow (it's essential to tone your brows to make them look natural - they should never be one block colour unless you have VERY dark hair), a mini brush and tweezers, and eyebrow wax. Eyebrow wax is vital when faking your brows - it's not only used to tame unruly hairs but also serves to even out the shadow and define the hairs of your eyebrows - so that your eyebrows aren't simply unnatural-looking blocks of colour on your face. The shade I use is Brown Sugar because my hair is fair, but when choosing your colours use this as a rule of thumb - one shadow should be a shade lighter than your natural hair colour and the other a shade darker.
While Urban Decay supply you with a small brush in their Brow Box I choose not to use it - it's too small for the kind of precision and control you need when filling in brows, and the texture of the brush is too stiff to apply the shadow in even strokes. Instead, I use Smashbox Angle Brow Brush No. 12. This brush REVOLUTIONISED my eyebrows. That might sound like an extreme statement, but it is really the perfect texture and level of stiffness to apply your brow shadow evenly but precisely.
When it comes to eyebrow pencils, I consider the brand unimportant - I have found that the quality doesn't vary much between cheaper and more expensive brands. Matte, hard pencils work better than waxy, soft ones, and are generally easier to apply precisely. If you find your pencil is too soft and goes on too thick, put it in the fridge for a little while before use. It's important to have your pencil well sharpened before use! With regards to the shade of pencil - match it to the darker shade of shadow that you have chosen. I use Elizabeth Arden's Smoky Eye Powder Pencil in Espresso - the texture is perfect and it lasts ages!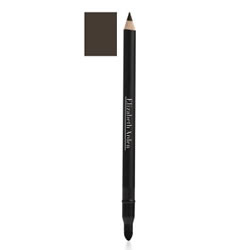 A last, but by no means least, essential part of any "eyebrow kit" is a simple, plastic eyebrow brush. The brand is unimportant and you'll find one of these in just about any pharmacy, but if you haven't got one to hand a (clean) toothbrush would do just as well! Ignore the comb side - it's the brush side you need! It'll give your brows the finishing touches.
Now that you know what to use, let's move on to how to use it! Please excuse the photos - they were taken on a very sleepy evening in my living room when I had very little (and also poorly applied) makeup on! After you've applied your foundation and powder, and a little highlighter on your brow bone if you wish, you're ready to start. It's important to have your natural brows intact when you're filling them in - if you over-pluck (or shave them off, as I've seen a lot of people who draw their eyebrows in do) you'll find it difficult to produce a realistic looking eyebrow. Here you can see just how fair my brows are naturally:
So, first off, take your angled brow brush and the lighter of your two eyebrow shadows. Apply the shadow in light sweeps from the inner brow to the outer corner of your eye. If you use the brush with a heavy hand, you'll end up with caked shadow on your skin - our aim here is simply to shade the hairs, not the skin behind them! Don't worry too much about the shape at this point - we'll even them out later.
Next, take your darker shadow and apply it to the outer parts of your brows, again in light sweeps. If you use the same shade across the whole eyebrow, you'll find the outer areas appear less visible and bold in comparison to the rest of the brow. Once you've applied all your shadow, following the natural eyebrow hairs, take a small amount of wax on your fingers (rubbing it between finger and thumb to warm it up) and apply a light coating over the shadow. It's okay if the wax looks or feels a little tacky at this point; again we'll remedy this later.
Now for shaping - this is one of the more difficult steps. Using your sharpened eyebrow pencil, and a light touch, fill in any patchy areas and shape your brows to your liking - I like to use it to define the arch and thin outer areas of my eyebrows, as well as the inner corners. The pencil may create a worryingly harsh, artificial appearance at first - but our next step will remedy that!
Lastly, you need to use your eyebrow brush (or toothbrush!) to comb through your new eyebrows. This will, with the help of the wax, even out all the colour, and take away any harsh corners created by the pencil. Brush them lightly if you want to keep a dramatic brow, or heavily for a more natural look - the heavier you brush, the more excess colour you will remove, without sacrificing any shape!
So that's it! I hope that this post might help those of you struggling to 'fake' their brows, or inspire those of you who haven't tried them out yet to take the plunge. You'll be surprised just how different they make you look!
Love,
A x