If Disney is the happiest place on earth then London is definitely the coolest!
My recent shopping guide for
Belfast City
went down really well so, in light of mine and Dee's impending sojourn across the Irish Sea, I thought I would fill you in on my favourite shopping spots there. I don't claim to be an expert on London at all and I haven't yet done the markets like Camden (Dee and I will be doing these) but, I can fill you in on some of the mainstream spots and those stores that you love here but, can get cheaper there!
Now, everybody knows that
Harrods
(Knightsbridge) and
Selfridges
(Oxford Street) are
the
places to go for a truly luxurious day perusing clothes, shoes and jewels you could never afford. While Selfridges is effectively the Brown Thomas of London though with the world's largest shoe rooms, Harrods is well worth a visit.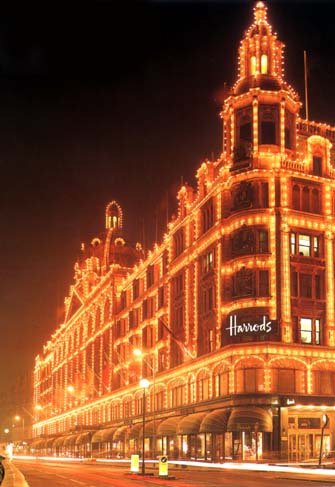 Harrods, Knightsbridge
Spread out over a decadent seven floors (4.5 acres!), you can go to the jewelery hall and see Khloe Kardashian's mahoosive Cartier engagement ring, or to the Shoe Boudoir with its massive Christian Louboutin collection. There is also a gigantic cosmetics hall boasting MAC, Shu Uemura and YSL to name but a few as well as large collections of OPI and Essie for all you nail obsessives! Probably one of the most staggering elements of Harrods is its huge array of restaurants, cafés and bars (Veuve Cliquot Champagne Bar anyone?!) but, especially its famous Food Hall which includes a Laudurée Tea Room, a Krispy Keme bar and Morelli's Gelato where sundaes are upwards of £15 but, worth every penny for a traditional (1907!) ice-cream treat!
Other than those Big Daddy's of shopping, what else does London Town have to offer?
Clothing-wise,
Oxford Street
is where you want to go for big-name, high-street brands.
Topshop, Oxford Street
Topshop Oxford Street i
s its flagship store and the world's largest fashion store. When I say this place is massive, I mean you would need an entire day to cover the whole store so, in light of that, I urge you to book in with a personal shopper the month before your trip. It's a free service and there is no obligation to buy (though it would be hard not to!) but, it means that
they
do all the running for you. You tell them in advance what your style is and needs are and they have rails upon rails of clothing set up in your private dressing room when you arrive. You can read more about Topshop Personal Shopping here.
Topshop in Knightsbridge (across from Harrods) is a lovely shop and totally overlooked. It's a good size and well-stocked and provides a much calmer experience than it's mammoth compadre!
Oxford Street also hosts American Apparel, French Connection, H&M, Urban Outfitters, Zara and Primark to name just a few of the stores in this shopping mecca!
Westfield London Shopping Centre
is just a tube ride away and houses an overwhelming array of stores including Ugg Australia, All Saints, Ghost, Gilly Hicks, Guess and Hollister as well as super high-end boutiques like Gucci, Louis Vuitton, Dior, Miu Miu and Prada.
Westfield Shopping Centre, London
MAC Pro
In terms of beauty, which, let's be honest, is why we're all here, London far surpasses anything offered in Dublin. Aside from the aforementioned Harrod's beauty hall, not far from Topshop Oxford Street is a MAC Pro store on Fouberts Place where, no, you don't have to have a Pro card to shop! You have access to all of the Pro Products but, just aren't entitled to the discount!
Westfield has MAC, Inglot, LUSH, Supedrug and the Body Shop to tickle your fancy as well as a host of nail bars and perfumeries.
Space.NK
has stores dotted all around London (though, if you're visiting Harrods, there is one conveniently located in the Knightsbrige Harvey Nics!) and has a tonne of brands but, By Terry, NARS, Jemma Kidd, Laura Mercier, Model Co and Shu Uemura are ones I would consider the most covetable! Oh, and there is also a Spa.NK in Notting Hill and, to placate the man you may be dragging around with you, a Space.NK.Men on Broadwick Street.
As I mentioned before, Essie and OPI are available from Harrods at about £9 a bottle. They also sell value and mini sets which, for the nail freaks, are always a good option!
While beauty is my first love, my close second has to be food. I love, love, love eating! So, while this isn't really a shopping idea, I would urge you to try out
Jamie's Italian
i.e. a Jamie Oliver restaurant. There are 13 in the UK altogether and, in London you can find them in Westfield Shopping Centre, Covent Garden and Canary Wharf. It's super affordable for high-quality food and you MUST try the Burger Italiano, the Funky Chips (fresh garlic and parsley) and the Posh Chips (truffle oil and parmesean).
I'm sure I'll update this once Dee and I get back and, feel free to share your own London shopping haunts in the comments!