Ever since I first tried the Soap & Glory Hot Cloth Cleanser back in January, I've been a huge convert to this method of cleansing. To me it really is the best method of removing every last scrap of makeup, whilst simultaneously polishing your skin thanks to the muslin cloth. This adds a lovely, noticeable glow to the complexion.
Both of the cleansers that I've tried are at the more affordable end of the scale. As much as I would love to try the likes of Liz Earle and Eve Lom, they're dearer and not readily available to me.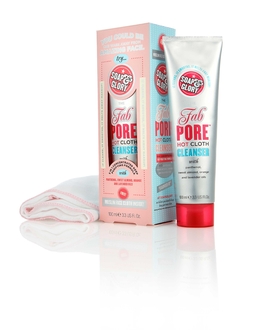 I'll start off with the Soap & Glory offering. As previously mentioned, this was the first hot cloth cleanser that I had ever used, so I was in love from the word go. A big plus for this product for me personally is the smell, although I know that a lot of people dislike overly scented products. It has quite a nice botanic/herbal scent to it (like a lot of bloggers, I really struggle to describe scents!) which really appealed to me.
It works fantastically and is quite thick in formulation. I had no reaction to the product and it definitely improved my complexion. The packaging is also fabulous and it came with a muslin cloth. I can't remember how much I paid for it here, but it's listed on the Boots website at £9.19 sterling for 100ml.
Now, there is only one downside to this product, and to me it is quite a big one. There is simply not enough product in the tube! I think I used this up in about two and a half weeks, and that was with quite a bit of rationing. This irked me quite a bit as I hadn't expected to have to repurchase so soon - and consequentially I didn't bother.
Moving on to the No.7 Hot Cloth Cleanser, the first immediate difference is that you are getting more product. Twice as much, in fact, 200ml! It's also listed on the Boots site at £9 (about €10/€11) so you're getting double the product for the same price. But does it measure up to Soap & Glory?
The packaging is decidedly duller, but the pump is a lot more functional and also means that you can get at every last drop of the product. The cloth that comes in the box is better than the Soap and Glory one in my opinion - a little rougher and more durable. So overall, it's a lot more 'sensible'.
The product itself isn't scented and is a little creamier and less dense than Soap & Glory. Nevertheless it works just as well. It removes all of my make-up and leaves my skin bright and soft. I can't say enough good things about this cleanser, and it has really suprised me because in my experience No.7 can be quite a dull, 'hit-and miss' kind of brand. This has really changed my opinion on them, though, and I'm interested in seeing if any of their other skincare products are as good as this. 10/10!
Love,
D x